For many startups, one of the first things you need to do is to raise money. But do you know the secret to a great pitch deck…?
The secret to a great pitch deck
Your pitch deck isn't supposed to win you the sale or the investment, it's a tool to communicate what you do, kickstart a great conversation, and secure your next meeting. Remember, investors will make decisions based on conversations with you, not your pitch deck.
But that doesn't mean your pitch deck isn't critically important. It's absolutely essential when approaching venture capital firms or angel investors, and even if you're considering crowdfunding. All of these potential investors will want to read your pitch deck before making an investment decision (to learn more, check out our guide to startup funding).
There are many good reasons for this.
First, your pitch deck helps them quickly make an initial assessment of the business opportunity and the team behind it. It's also a way for them to benchmark you against other companies in the same space.
Secondly, any equity investor worth having on your cap-table will want to know who you are, what you're doing, how much money you need and how you'll use it.
Preparation prevents poor pitching
Pitching investors can be a daunting prospect, if you're unprepared they won't take you seriously. Practice, practice, and practice again.
Startup pitch decks are a great way to get your startup funded, but they're not easy to make. Not only do you need to come up with a great idea, you have to find an innovative way of communicating it, and then present it in a clear, concise and compelling manner.
Here are the key things you should take into account when creating your pitch deck.
The first thing to consider is how much time you have. If you're only given 10 minutes, it's not going to be possible to go through all of this, so you need to pick the most important points.
The second consideration is your audience. Are you talking to angel investors or venture capitalists? Each will appreciate different aspects of your pitch deck, so make sure that you know what they want before you start making it.
When it comes to pitching, you need to make sure that you're confident and clear in your delivery.
There are several ways to make sure of this; the first is doing your homework. If you've done your research and know your product cold, then you should be able to talk about it easily and fluidly.
Pitch Deck: Your pitch deck should always be well prepared and updated to reflect your current business status. The more information you can fit into a single page, while still keeping everything clear and concise, the better. It shows that you know what you're doing because you've taken the time to hone it down so much.
Next, take a look at the person or people who will be listening to your pitch. People who are knowledgeable in the field relevant to yours will be able to ask questions and point out flaws in your work. So if they're sceptical, you might take that as a good sign! However, if they seem bored or confused by what you have to say, then there's a chance that your pitch could use some work.
You'll also want to practice your pitch multiple times with different people before going into the real deal.
The best pitch deck templates for raising seed and pre-seed investment
To help you take your fundraising efforts to the next level, we have compiled our ultimate list of pitch deck templates.
We have spent the last year collecting and analysing pitch decks and fundraising presentations from leading startups and investors in Silicon Valley and beyond.
The result: a growing collection of startup pitch deck templates that founders and entrepreneurs use to raise money from venture capitalists, angel investors, accelerators, and more.
This is a collection of pitch deck templates that cover some of the most popular business models, ranging from consumer-facing startups to enterprise SaaS companies.
For each, you will find a brief summary, as well as free editable Google Sheets links or a Microsoft PowerPoint download (.ppt).
All are free for you to use, so go ahead and take them for a test drive!
Pitch Deck Template by Saba Karim (techstars)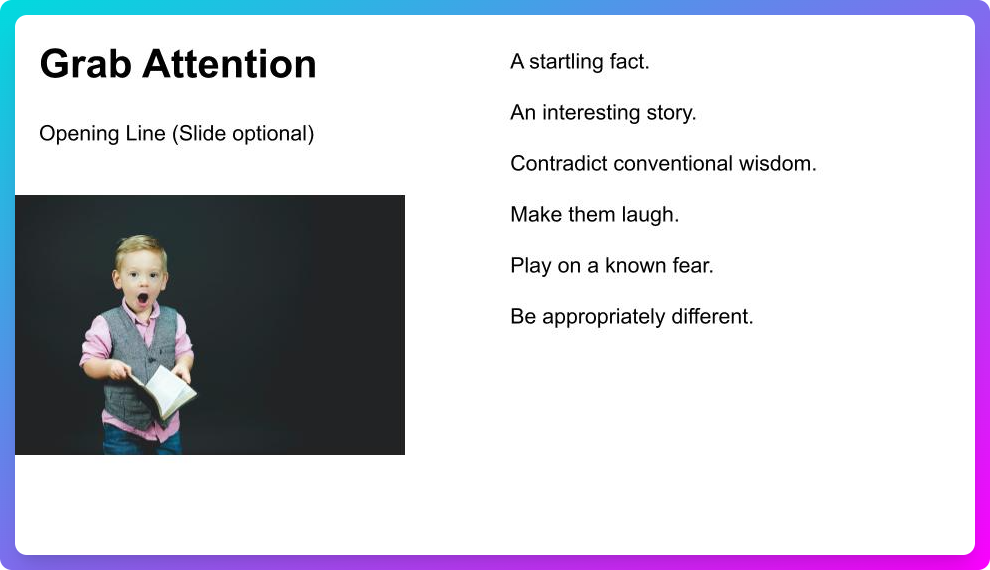 Saba Karim is the Global Startup Pipeline Manager, responsible for helping source 450+ startups from across the world for Techstars' accelerators. He's ridiculously clever, very experienced – and sees literally hundreds of pitch decks. Every week.
Source: Google Slides
500 Startups Application Pitch Deck Template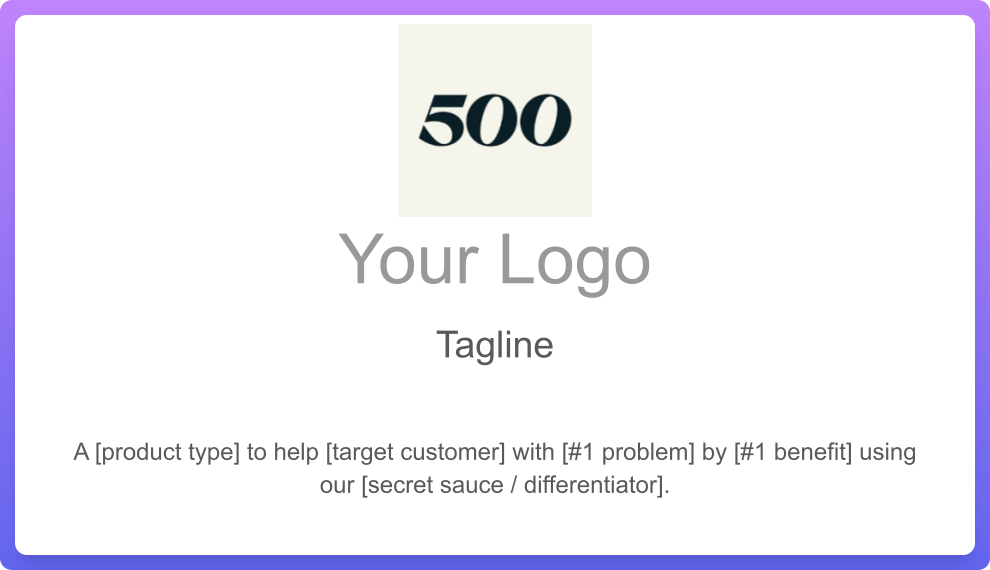 500 Startups is an early-stage venture fund and seed accelerator founded in 2010 by Dave McClure and Christine Tsai. They've backed more than 2,500 companies (or 6,000+ entrepreneurs!) across 77+ countries. It's worth paying attention to what they think.
Source: Google Slides
The Founder Institute Pitch Deck Template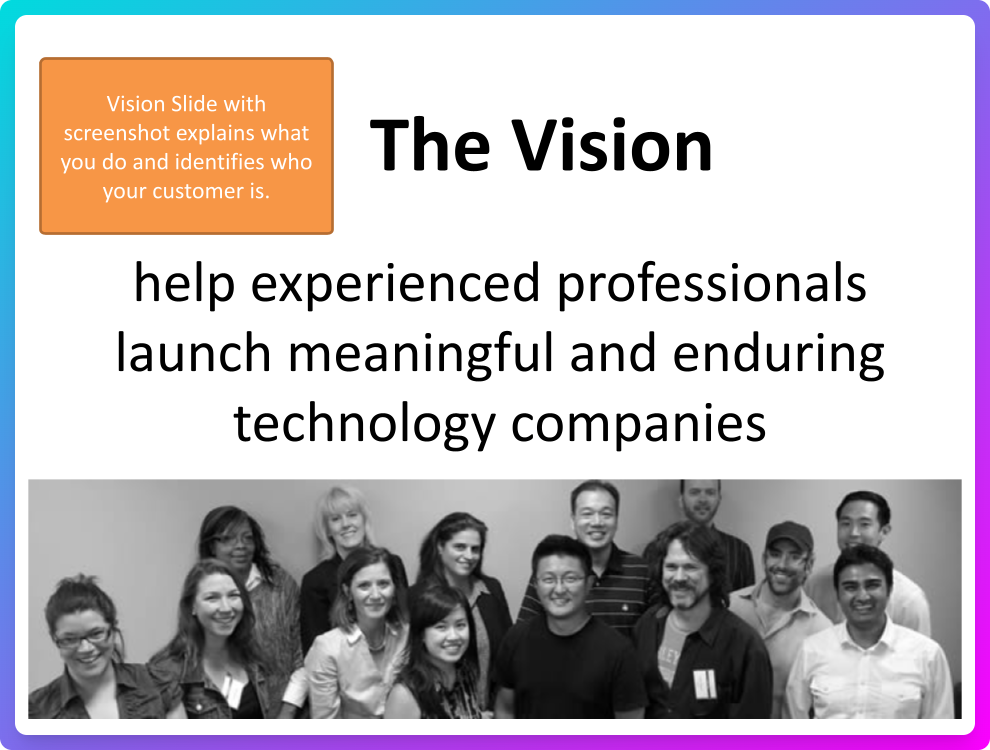 Founded in 2009, The Founder Institute is the world's largest pre-seed startup accelerator, having helped launch over 5,000 companies across 200+ cities and six continents. Their pitch deck template is 10 simple slides that can help wow your next investor.
Source: Google Slides
Y Combinator Seed Deck Template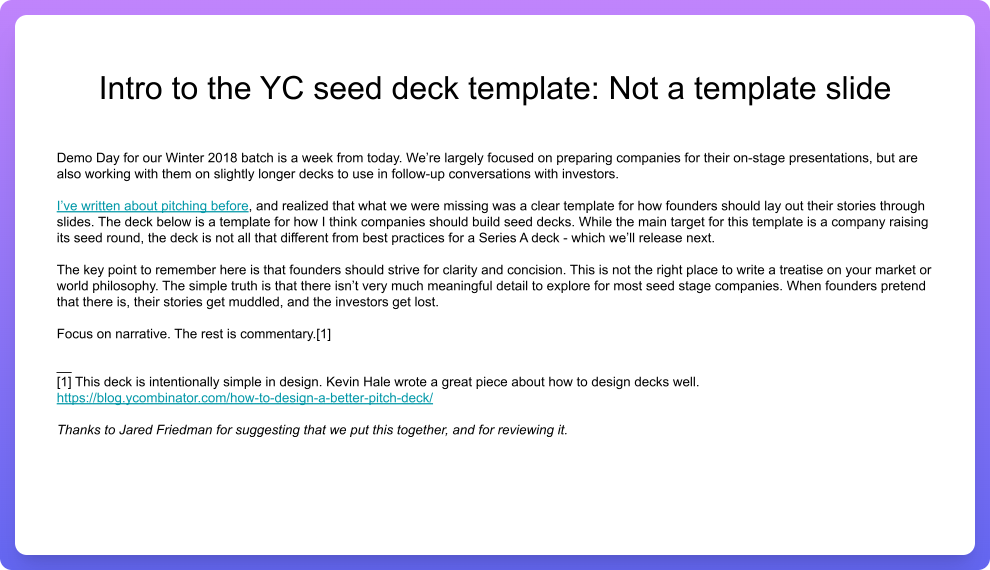 Y Combinator is an seed accelerator launched in March 2005. They've launched more than 2,000 companies, including Stripe, Airbnb, Cruise Automation, DoorDash, Coinbase, Instacart, Dropbox, Twitch, and Reddit. 'Nuff said really.
Source: Google Slides
Accelerated Digital Ventures Pitch Deck Template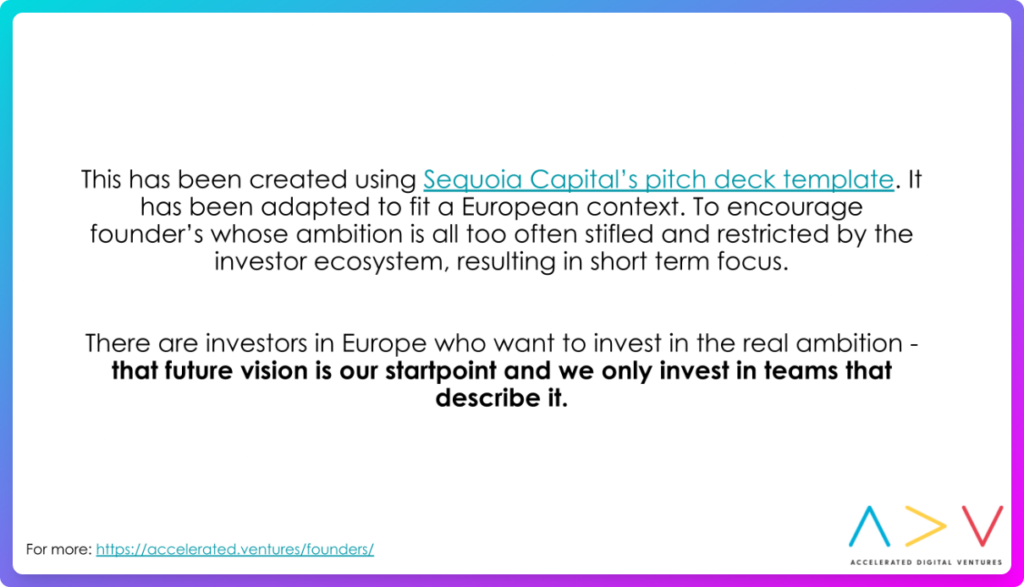 There's a big world outside of Silicon Valley, with plenty of capital to back exciting startups and unlock the true value of what they can achieve. ADV have adapted the Sequoia Capital pitch deck template to fit the European context.
Source: Google Slides
Pitch Deck Template from Apptension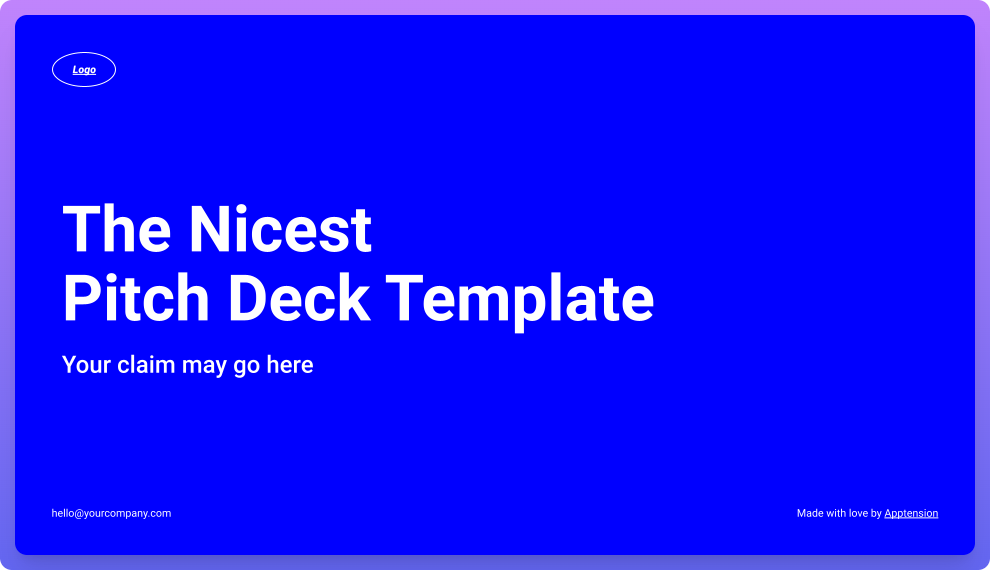 Apptension might not be VCs, but they've put together "The Nicest Pitch Deck Template" — which might've been inspired by Airbnb… Still, that's no bad thing!
Source: Google Slides
3VC Pitch Deck Template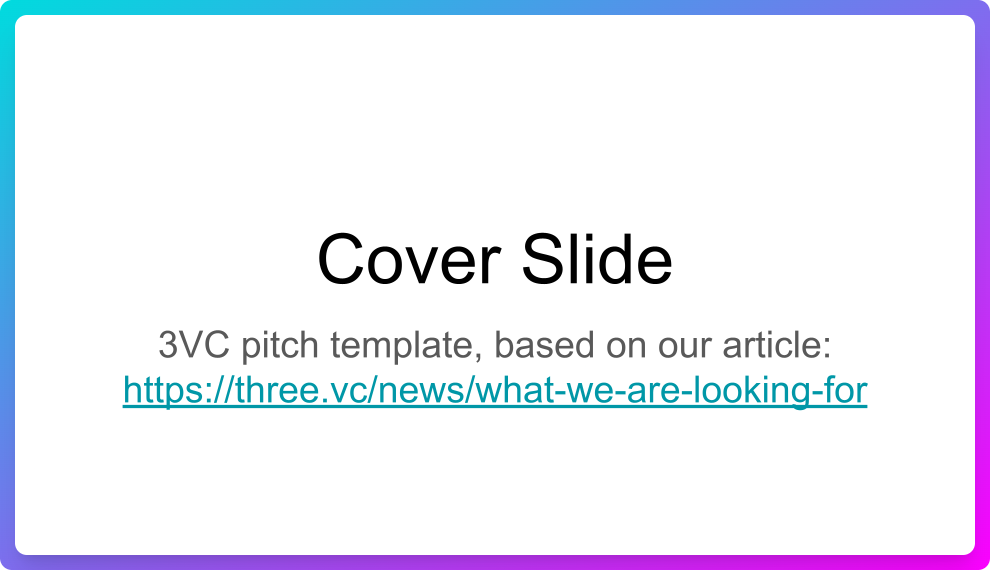 3VC is a Vienna-based venture capital fund that invests in European technology startups with global ambition. We'll have to assume that they were fed up with being sent bad pitch decks, because they made this template (and article) that helps founders to share exactly what they need to know! More VCs should do this.
Source: Google Slides
Beautiful.ai + First Round Capital Investment Deck Template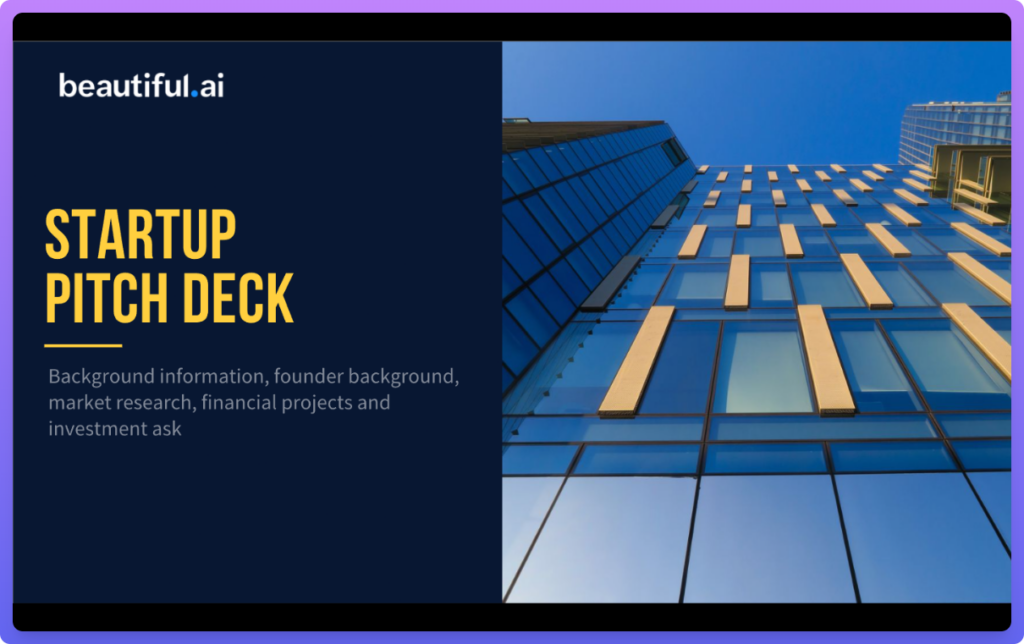 Beautiful.ai is an online presentation maker that helps you create stunning pitch decks in minutes. The extra special thing about their template is that it has been been approved by the Pitch Assist Team at First Round Capital, one of the world's leading seed stage VC firms (they backed Uber).
Source: Beautiful.AI
NextView Ventures Pitch Deck Template
This template is from David Beisel, co-founder and Partner at NextView Ventures. He has been focused on early stage tech startups his entire career, both as an entrepreneur and venture capitalist. This format contains more detail than an introductory pitch deck and is a great way to follow up after an initial discussion.
Source: PowerPoint | Google Slides