No Code: The Fastest Way to Validate Ideas and Launch Startups
A quick glance at the LinkedIn profiles of most software developers would suggest that these are among the best-paid jobs in the world. But how can you develop an entire SaaS business without writing a single line of code?
The answer is simple: You don't have to.
These days there is a plethora of no code tools that can be used for web development, and almost all of them are drag-and-drop solutions. And they are often available for free.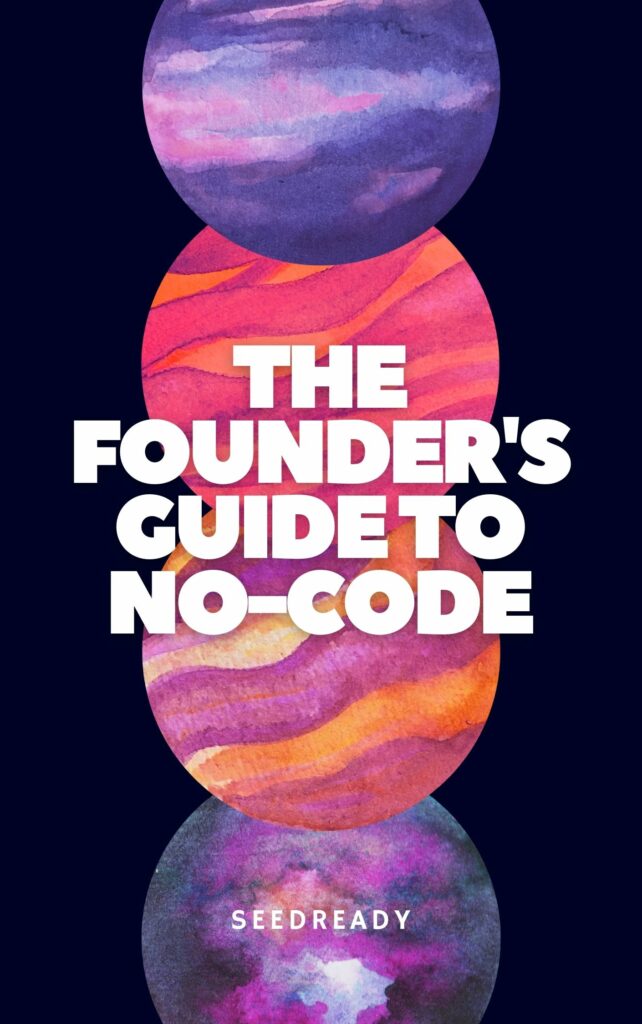 We're building a free database of the best no code platforms
Sign up for early access
What is no code?
No code is a term used to describe the process of building a website or application without writing any code.
It is a practice that has been growing in popularity as technology has advanced and the software and platforms have become more user friendly. Not only is no code development more accessible to more people — you can build a startup without being a developer — it's also much less expensive.
There are a number of different platforms you can use to create a website or an application without coding. The key differences between them lies in how much control you have over the design and functionality of the website or application.
What is a no code development platform?
No code development platforms allow users to create applications without writing any code. They are also referred to as "no programming required", no coding, drag and drop, platform as a service (PaaS), or visual app builders.
No code development is an umbrella term that encompasses several different trends in technology. Although it's not a strictly defined practice, you can find common threads in companies that are implementing no code practices. These are the 4 attributes that define these types of platforms:
Easy to use
No coding skills required
Rapid time to value (prototype or launch)
Cost effective
The main purpose of no code development is to make the process of developing applications easier and more accessible to everyday users with little technical knowledge.
How you can start a no code business today
Starting a no code business is not easy and requires a lot of time, work and dedication. However, it can be done by anyone with enough perseverance and patience.
To create a no code business, you need to learn the basics of entrepreneurship and business management. You will need to understand how to define your business model, how to develop your product, how to acquire your customers, how to grow your customer base and even more.
The process of creating a no code business can be divided into three main steps:
Define your business model
This step will help you determine the type of service you will provide. Business model generation is not an easy task; it requires research and analysis on your part.
The main thing here is to make sure that the idea you choose has a market. It is essential for you to carry out research in order to determine whether or not this idea has potential for success.
Develop your product or prototype
After you have decided the type of service you want to provide, you need to create a product around it. This can include developing a mobile app or website (no code needed).
Here again, there are certain issues that need to be addressed. For example, will you use an existing platform or build one from scratch? Will your product have in-app purchases? Will it allow users to connect with other users in some way?
All of these questions require answers in order to develop a viable product.
Reach your first 5, 10, or 100 customers
It's all too common for entrepreneurs to get caught up in creating their product or service without first thinking about who their customers are and what they want.
The truth is, developing a great product idea is only the starting point and not necessarily the biggest challenge you'll face. The rest of your business journey will be about:
Continually iterating to build a great product that people actually want
Making people aware that your product exists
Getting people to buy it and helping them succeed… and then doing it again and again!
What are the benefits of no code?
No code platforms are used to build websites without the need for coding knowledge. They are often used to rapidly prototype, produce and launch new websites and applications. This is particularly useful for non-technical founders and new startups who may not have the resources to pay a developer.
You can think of them as sophisticated WordPress templates which you can edit using an intuitive drag and drop editor. By using these systems instead of traditional methods, you can see the benefits below:
Speed – No coding means no waiting around for others to make your idea take shape. You can go from an idea to a product in days rather than weeks or months.
Cost – No coding takes away the need for expensive developers and web designers, meaning you can get started with a smaller budget than before.
Versatility – No code solutions are extremely versatile, offering everything from ecommerce functionality right through to complex image editing tools so you can edit your own images on site.
All this without writing any code!
If you want to start an online business without any technical knowledge, no code programming can be the best route.
Who is no code for?
The no-code movement is taking hold in the tech world. It's not just for non-technical founders anymore; it's also for developers who want to build something quickly or designers who want to incorporate data into their work.
No-code development is great for founders who want to create their own product without having to hire a developer or build a team of them. And no-code development is also good for companies that have already built products and want to expand into the mobile market.
Numerous companies use no-code platforms today, including Home Depot, T Mobile, Nordstrom, DDB Worldwide, Coca Cola, Samsung, Adobe and many others.
No-code platforms are unique in that they allow you to avoid the need to hire full time developers or invest in expensive software tools.
They are much faster than traditional methods because they often require less than 10% of the time, money and effort it takes to build an app from scratch; and no-code platforms can be used by people with absolutely no programming skills – all you need is a vision and some imagination.
It's not all about product development…
When people think of "no code" there's a tendency to think of it as something limited to building apps and websites. That's not the case at all!
No code solutions are great for building websites, but they're also perfect for helping you get your product in front of customers. No code tools allow you to create powerful surveys and forms, landing pages, and promotional assets that can reach customers anywhere online.
What are the drawbacks of no code?
No code platforms are impressive. They allow anyone to design an entire website, which is why they're popular with businesses of any size. But they also have disadvantages, especially for certain kinds of projects.
For instance, no code platforms don't give you the kind of control you'd get with custom development. Instead, you're limited to the features the platform offers. If you have a developer on the team, you can customise to your heart's content, no code platforms tend to be more limiting.
The second thing that can catch out non-technical founders is that definition of "no code" is different depending on who you ask. Some use the phrase to mean that there is no programming. This may be true, but it doesn't tell the whole story. There are no lines of code to write, but there are still other things to do, such as data entry or configuration.
Finally, the biggest drawback to no code is that you can find yourself "locked in" to a platform. Let's take Shopify as an example:
One of the best things about Shopify is that you can start selling online without any programming skills. No matter what your background is, you can get your store up and running in a matter of hours using a simple point-and-click interface.
As an entrepreneur, this is a great feature to have. You don't have to pay a developer thousands of dollars to build a beautiful online store for you.
However, there are some disadvantages to being locked in to a no code platform like Shopify.
What if your business grows and you need more advanced features? What if you want more flexibility? What if you want to leave Shopify?
The most important thing to remember about no code platforms is that you're giving up control of your website's design, functionality and content. If you choose to use a no-code platform, you're choosing to rely on software created by someone else — and if that software stops working or suddenly becomes incompatible with the other tools you use in your business, you don't have much recourse.
It's also worth remembering that if you decide to move away from a no-code platform later on, it could be very difficult to migrate your site to another provider. No-code platforms are designed to be difficult or impossible to transfer out of because it helps them lock you into their service. You can't transfer everything at once, so your choices are often limited to moving only part of the data stored in the platform's database, which might not even include all of the data, all of the users, or even the front end of the application itself.
What kind of apps can be built with no code?
There is a new breed of entrepreneurs out there who are completely changing the game in their respective industries. These entrepreneurs are not coders or techies, but they are still building companies that rival many startups and tech companies in terms of growth and innovation.
What do all of these revolutionary entrepreneurs have in common? They know how to use no code.
SaaS businesses
SaaS businesses are the new startup gold rush. They're attractive to founders because they have low capital requirements, high margins, and recurring revenue. No code makes the barrier to entry really low too because you don't have to spend much time or money setting up servers or doing other complicated infrastructure setup.
Building a SaaS business without doing any development work? Sounds crazy, but it's totally possible. Check out Bubble.io
Marketplaces
Markets are made up of buyers and sellers, who come together to trade goods or services. If you've ever participated in a transaction where you've sold something to someone else, then you're familiar with the concept of buying and selling.
We're seeing more and more startups using no code to build their marketplace businesses. The number of tools available to create marketplaces is growing fast, this is making it easier than ever for non-technical entrepreneurs to create a digital marketplace.
Ecommerce
Today's ecommerce market makes it easier than ever to start an online business. The days of having to learn how to code are long gone.
Here are some popular ecommerce platforms that provide easy-to-use interfaces that allow you to set up your site in minutes: Shopify, Magento, Big Commerce, Wix
Games
The world of game development is a challenging one to master. It takes a lot of time, effort and money to get good at it, but it doesn't have to be that way. In fact, there are several tools out there that allow you to create games without ever writing a line of code.
Today, there are tools that let you build games without writing a single line of code. Using drag-and-drop functionality, you can quickly snap together game mechanics, characters and levels.
Mobile Apps
A few years ago, it was unthinkable for a business to not have an iOS app. Nowadays, it's almost as unthinkable for a business to not have an app that is responsive and looks good on all devices. But building an app takes a lot of time and money — unless you use a no code platform for your mobile application.
There are many no code platforms available, and they offer very similar services: allowing users to build apps without the need for any programming knowledge or skills.
There are a lot of advantages to building a mobile app with no code. The most obvious one is cost. Eliminating the need for 100+ hours of developer time makes a huge difference in the overall budget.
Data products
So you've got a brilliant idea for a data product. You want to create something that people will use and love, and that will have a meaningful impact on your business.
These days users can create their own data products. You can use a spreadsheet, Google Sheets, or Stitch to stitch together your data without writing any code. You can build a data product with no technical skills. And you can build a data product in less than 24 hours.
Backend & Database Applications
If you're a business owner, developer or data analyst and you're considering building a new application but don't want to go through the hassle of learning a programming language like Python or Ruby, then we have good news for you: No code may be the answer.
If you're looking to build a simple backend application that doesn't require any real-time data processing and is mostly used as a reporting tool, no-code platforms such as Datameer and Qlik Sense can help. You can create reports and dashboards using drag-and-drop visual tools, without writing any code.
Can you build a successful startup using no code tools?
YES! There are quite literally hundreds of platforms that enable you to successfully build and launch your startup — without having to write a line of code.
Need a way to automate email marketing? There are dozens of options. Need some ready-made landing pages? Yep, plenty of those too. Need a way to accept payments for your business? That's covered as well.
No code tools are the future of innovation. They reduce development time, enable rapid scaling without hiring more people, and make it easier to make updates.
Smart businesses are embracing no code by building their business on top of one of these platforms. If you're not using no code platforms already, you'll need to start learning how to build your business on one of them if you want to remain competitive in the space.
Lambda School
💰 Raised $130+ million
Lambda School is an online coding school build on No Code! They've used Typeform, LearnDash, Zapier and other No Code solutions to rapidly scale.
Comet
💰 Raised $12.8 million.
Comet connects companies to tech freelancers, they scaled to $800,000 ARR on a platform built entirely with Bubble.
Dividend Finance
💰 Raised $325 million.
Dividend is a leading provider of renewable energy and energy-efficient financing solutions to property owners. They built their product with Bubble.
https://www.dividendfinance.com/
No Code Platforms
The rise of no-code platforms has made it easier than ever to build sophisticated web applications. There are many companies that offer no-code solutions that are both easy to use and budget friendly.
Bubble
No-code application platform
Adalo
No-code app builder (iOS and Android)
Glide
No-code app builder
Thunkable
No-code native app builder
Peltarion
No-code AI platform
Webflow
No-code web design and development platform
Wix
No-code website builder
Squarespace
No-code website builder
Weebly
No-code website builder
Tally
No-code form builder
Sharetribe
No-code marketplace builder
Unqork
No-code enterprise app builder
Betty Blocks
No-code enterprise app builder
Unstack
No-code marketing platform and site builder
We're building a free database of the best no code platforms
Sign up for early access